Synopsis: The crown princess gives birth to twins: a boy and a girl.

The king orders the girl to be killed. The princess cannot bring herself to kill her and stages her death before sending her away.
Years later, the little girl reappears and meets her brother without knowing who he is.
They go to swap identities but the boy dies.
The princess finds out the truth and decides to pass her daughter off as the crown prince.
This one becomes Lee Hwi and must live a new existence trying to hide the deception from everyone.
---
My opinion: Overall, I liked the drama even if I found the last episodes long.
I liked the first episodes a lot and I was really into it, but there were two episodes where I found it so boring, so bad that I was afraid that the rest of the drama would become like that. Fortunately, he is recovering from the hair of the beast. Alas, gets a bit long in the later episodes.
The first part of the drama sets the scene for us and we see how this girl must turn into a boy and the romance is very highlighted with political stories in the background, which I really liked.
In the second part, political stories take precedence. If at the beginning, they knew how to please me, they ended up boring me. I thought it was long. I don't think they should have made 20 episodes to avoid this plot drain. I admit in view of the turn of the second part, I kept saying to myself but how they will conclude this story. In my eyes, they concluded it well.
Let's talk romance, I liked it a lot. In the first episodes, we are shown the childhood of the protagonists and I said to myself that it is really a Korean historical drama with the encounters of children. It's been a long time since I watched a Korean historical drama. I didn't really like the romance in this childhood part, I found that there was no chemistry between the protagonists. But once an adult, the alchemy explodes and bursts the screen to the point of making me adore. Our two leads are cute as hell. No brainer, Jung Ji Un is in love with a man, he will not procrastinate and lets himself be carried away by his feelings even if he does not know that Lee Hwi is a woman.
Characters: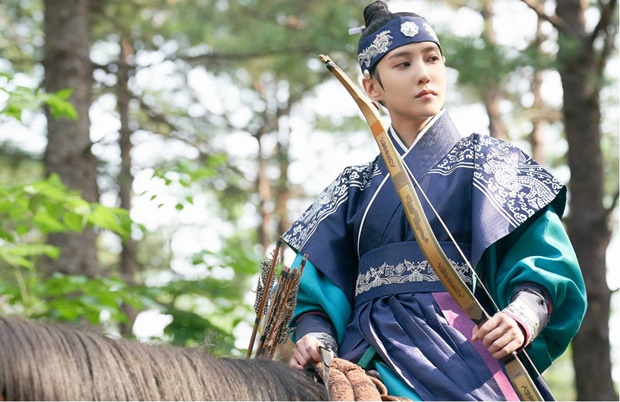 Lee Hwi is a solitary character who seems to carry all the weight of the world on his shoulders. She is an orphan then discovers the existence of her family and ends up having to take her brother's place by pretending to be a crown prince. Lee Hwi is on hot coals constantly and has to avoid all the traps. I liked this character who is alone and strong. But also the whole intrigue around his secret. Even if the character seems physically frail, I found this young girl believable as a man. Park eun Bin knew how to put in place the gestures, the steps and the intonations that make us believe that he is a man. It was believable.
Jung Ji Un is the son of our big bad's watchdog. He admires his father but his world collapses when he sees how he acts. Jung Ji Un ends up taking another path and turning away from his family. I liked this character who is very endearing. He is ready to do anything for the people he loves. He remains rooted in his convictions. He's a real ray of sunshine and he's so cute in love mode.
Lee Hyun is Lee Hwi's cousin and becomes his best friend. He can count on him in any event. Even if I liked this character opposite Jung Ji Un, he didn't measure up.
Lee Hwi's entourage: – His servant and his eunuch who are in the confidence of his secret. They stay by his side. I found their relationship very touching. – His bodyguard, a mysterious and intriguing character. – Is his father a villain? Does he love his child? Does he regret having sacrificed his daughter on her father's orders when they were born? -His maternal grandfather is power-hungry and makes Lee Hwi tremble. The typical Dramaland villain.

– Yoon Hyeong Seol, a seasoned guard who knows Lee Hwi's secret and will do anything to protect her. – Noh Ha Kyung, daughter of a nobleman who falls in love with Lee Hwi. At first glance, it may seem annoying, it becomes endearing and hurts our hearts.

Jung Ji Un's entourage: – His father is the villain's watchdog. A detestable character by his actions who does not hesitate to have his hands covered in blood. – Shin So-Eun daughter of a minister who meets Jung Ji Un and falls in love with him. This character had the potential damage that she was under exploited.

A little bit of the adorable Jung Ji Un to close this article