It's Okay to Not Be Okay is a South Korean romantic drama television series written by Jo Yong and directed by Park Shin-woo. It stars Kim Soo-hyun, Seo Yea-ji, Oh Jung-se and Park Gyu-young. The series follows a selfless psych ward caretaker and an antisocial children's book writer.
The series was broadcast for 16 episodes on tvN and Netflix from June 20, 2020, to August 9, 2020. According to Nielsen Korea, it recorded an average nationwide TV viewership rating of 5.4%. It was the most popular show of 2020 in the romance genre on Netflix in South Korea. Critical response were primarily positive; some commentators criticized the writing in the latter half of the series but praised the acting by the cast.
The New York Times named It's Okay to Not Be Okay one of "The Best International Shows of 2020".[2] At the 57th Baeksang Arts Awards, it received eight nominations with two wins (Best Supporting Actor – Television and Technical Award for costume design). It received an nomination at the 49th International Emmy Awards in the Best TV Movie or Miniseries categories.
Synopsis
Moon Gang-tae lives with his older brother Moon Sang-tae who has autism. They frequently move from town to town ever since Sang-tae witnessed their mother's murder. Gang-Tae works as a caretaker in a psychiatric ward at every place they settle in. While working in a hospital, he meets a famous children's book writer, Ko Moon-young, who is rumored to have antisocial personality disorder.
Circumstances lead Gang-tae to work at the OK Psychiatric Hospital in Seongjin City, the same city where they all lived when they were young. Meanwhile, Moon-young forms a romantic obsession for Gang-tae after finding out that their pasts overlap. She follows him to Seongjin, where the trio (including Sang-tae) slowly begins to heal each other's emotional wounds. They unravel many secrets, seek comfort from each other and move forward in their lives.
Kim Soo Hyun and Seo Ye Ji (Save Me) are making a comeback in the drama "It's okay to not be okay" and what a drama! This is definitely my favorite drama of 2020! Let me tell you that I was already hyped when the announcement of these two actors that I love but the synopsis had given me great desire too!
Indeed, we follow an author (Go Mun Yeong) of children's books who is a big anti-social. One day, when she is presenting one of her albums, she will "meet" Moon Kang Tae, an agent working in a psychiatric center. The two have been attracted to each other for longer than you might think.
Go Mun Hyung – He is clearly a fashion icon, this character is THE VISUAL of the drama. But it is also said that those who dress extravagantly protect themselves from something. Clearly, her childhood was not easy. She's a character who goes beyond social conventions because she's not particularly nice or social, she doesn't give a damn about everyone, she does what she wants to do, she steals what she likes it, she's capricious, in short, it's not a cream. But with her duo Moon Kang Tae, she opens up to a new facet of her personality without becoming a model of virtue! I think it's a change to see this kind of female main character who isn't all smooth, all cute, without any borderline flaws!
I found interesting the use of fairy tales throughout the drama and the parallel that is created with the situations that occur. I found it intelligent and relevant. Then on a certain side, the fairy tales written by Ko Mun Hyeong are clearly a means of communication to express themselves on their true feelings even if they do not lack character and punch line. A lot of things come out of it through his writings. In a way, it gave me a Tim Burton vibe because of the creepy vibe and also the artwork.
The two main actors have a very good chemistry and a very good bond on screen. The acting is always so incredible and realistic. Finally, it's not surprising when you know that Kim Soo Hyun is the highest paid actor in dramaland and Seo Ye Ji who was already incredible in Save Me (which I highly recommend by the way). I should really pay more attention to his filmography!
Moon Kang Tae– despite the fact that he is tall, handsome, protective, friendly, patient, that he reacts quickly and is extremely attached to his brother, moon kang tae is a character who keeps everything to himself and is extremely withdrawn into his own feelings. His life is not easy since he has to take care of his brother Moon Sang Tae who has autism. Well, that's what he thinks. He is surely the character with whom I identified the most for having a disabled brother myself and especially on the things that one can imagine when one carries a weight as heavy as Moon tae when one is a child and is l imagine his whole life. Through the story of the butterflies which acts as a thriller in the drama: who is really running away from them? In a way, we could say that it is Kang Tae who flees his past and his own anxieties,
Through the character of Moon Sang Tae , we approach autism with great intelligence. Oh Jeong Se's acting is amazing! We see that he has studied this character a lot. Whether at the level of facial expressions, language and even reactions, realism is at its height! I would even say that this character is the centerpiece of this drama. It clearly adds a plus in the universe of this one. And then, he is so innocent, touching and benevolent despite his traumas. He is also the one who made me laugh the most with his answers! I think he's a character who has matured a lot. In short, I like it a lot!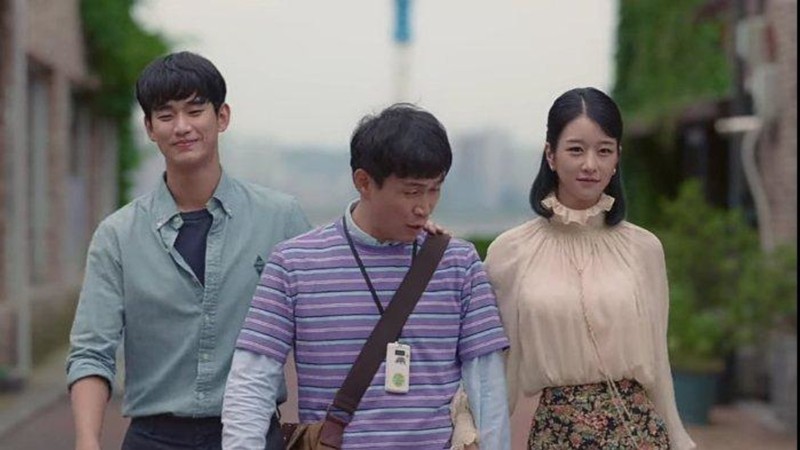 There is a very family and adorable relationship that is created over the episodes and I really loved these passages. Because in a way, the trio is stuck in childhood trauma, it's safe to say they're learning to grow up together. Then also a mutual healing that is looming because we are stronger together. In truth, there's no character that I didn't like, they all add a few things without being useless and even those who could be said to be the worst rotten people, we still manage to put ourselves in their shoes and to push the reflection of why they arrived at these extremes even if certain things cannot be forgiven!
The production is impeccable, I found this drama very beautiful visually. I loved the animated parts thanks to the stories of tales, I admit that I did not expect the opening of the drama! The credits are great and very aesthetic! The OSTs are awesome!
Regarding the thriller side, although it is not the main subject of the drama, is rather well brought even if honestly it was a little predictable. But I'm glad we didn't focus too much on it, even if in the end it's an integral part of the psychology and the traumas of the main characters!
For me it was not just a romance, it was much more than that. It's a drama about human relationships that are complicated, about getting out of the social conventions that society imposes on us, it's about trauma, dementia, madness, mental illness and the world / the state of spirit in which the patients are and also the bonds which can be created even in difficulty. It is an opening onto the world of these misunderstood and withdrawn people. He talks about pretending to be fine, being hypocritical towards yourself, keeping your emotions locked up until it explodes like a bomb that can sometimes cause irreversible things. It talks about the traumas that life or even people can create for us such as the hold parents have over their children. Frankly, it's a drama that spoke to me a lot for having experienced what the character of Moon Kang Tae experienced. Before being in a way a thriller since a mystery still hovers, it is above all a psychological series. In truth, I cried a lot during this drama because it touched me several times. Be careful, we don't just cry in front of it, I laughed a lot too. For me it's a series that feels good, this series is a kind of therapy in itself for so many things! IN SHORT, A BIG FAVORITE, WATCH IT AT LEAST FOR MOON SANG TAE THE MASCOT OF THE DRAMA. we don't just cry in front of it, I laughed a lot too. For me it's a series that feels good, this series is a kind of therapy in itself for so many things! IN SHORT, A BIG FAVORITE, WATCH IT AT LEAST FOR MOON SANG TAE THE MASCOT OF THE DRAMA. we don't just cry in front of it, I laughed a lot too. For me it's a series that feels good, this series is a kind of therapy in itself for so many things! IN SHORT, A BIG FAVORITE, WATCH IT AT LEAST FOR MOON SANG TAE THE MASCOT OF THE DRAMA.