The Uncanny Counter is a South Korean television series starring Jo Byung-gyu, Yoo Jun-sang, Kim Se-jeong and Yeom Hye-ran. Based on the Daum webtoon Amazing Rumor by Jang Yi, it centers on the titular character So Mun, a high school student with disability who is enlisted to be part of the Counters, a group of paranormal-hunters who search for and fight against evil spirits that escape from the afterlife to prey on humans.
The first season aired on OCN from November 28, 2020 to January 24, 2021 on every Saturday and Sunday at 22.30 (KST) for 16 episodes. Each episode was released on Netflix in South Korea and internationally after their television broadcast. The series became the highest rated OCN series so far. The series has been renewed for a second season.
Synopsis
In the fictional city of Jungjin, a group of four demon-hunters called the Counters bear the arduous task of searching for and banishing evil spirits (akgwi)[b] that escape from the afterlife to gain immortality. These evil spirits possess local human hosts who have committed murder or have a strong desire to murder, encourage their host's desire to kill, and consumes the spirit of the victim. The Counters were once under coma when a partner spirit from Yung, the boundary between the afterlife and the world of the living, possess them and give them perfectly healthy bodies and consciousness along with superhuman strength and supernatural abilities. Three of the Counters—Ga Mo-tak (Yoo Jun-sang), Do Ha-na (Kim Se-jeong) and Choo Mae-ok (Yeom Hye-ran)—pose as workers in Eonni's Noodles, a noodle restaurant which serves as their hideout.
One day, the fourth Counter Jang Cheol-joong (Sung Ji-ru) is killed in a battle against a strong "Level 3″[c] evil spirit. As his spirit gets consumed by his killer, his Yung partner Wi-gen (Moon Sook) struggles to find a new comatose human to possess. Uncannily, she is quickly drawn towards high school boy So Mun (Jo Byung-gyu) who, despite being disabled, is nevertheless perfectly healthy and alive. As soon as Wi-gen possessed him, the unknowing Mun starts noticing bizarre changes to his body and starts seeing Wi-gen in his dreams. Soon, Mun finds the answers in Eonni's Noodles, and as he becomes the replacement to the late Cheol-joong, he finds himself in a thrilling journey of battling against bloodthirsty demons, reconnecting to his past, and uncovering the ugly truth behind a major redevelopment project in Jungjin.
Review :
Based on the webtoon Amazing Rumor (경이로운소문) by Jang Yi.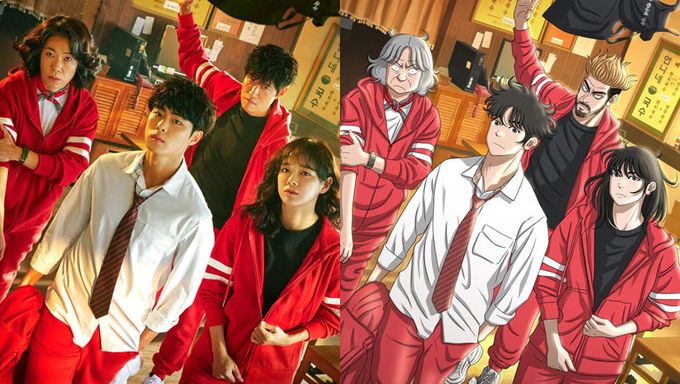 There is a group of noodle restaurant workers like no other. Indeed, this restaurant is only a facade. The employees conceal their real function there. This team is actually formed for the purpose of hunting down evil spirits. In order to capture and drive out those demons or spirits that have returned to earth in search of eternal life, each of the members is endowed with a special ability of their own. These people with special powers call themselves Counters .
So Mun , a high school student, turns out to be the youngest Counter member. His special ability is his physical strength. As a child, he was unfortunately involved in a more than suspicious car accident, resulting in the death of both his parents. Since then, in addition to being an orphan, he limps in his left leg.
Ga Mo Tak is a former policeman. Following an accident 7 years ago, he suffers from amnesia and no longer remembers his "before". He is a just and upright person who is unable to remain inactive in the face of injustice. He is also So Mun's mentor.
Do Ha Na has a knack for sensing evil spirits from a distance, up to hundreds of miles away. Its other ability is to read an individual's memories through touch.
Chu Mae Okhas healing abilities. Outwardly, she is the head of the famous noodle restaurant, but among the team, she is seen as the emotional pillar, the anchor of the Counters .
Choi Jang Mul is the first to join this hidden group; it is thus the first Counter of Korea. As an elder, he is a living legend among Counters in Korea. He takes care of the management of the expenses of the group.
Review 1 (Dina): A good dose of action and emotion!
Freshly finished , this Korean drama is a little gem if you appreciate action and emotion
Based on demons and hunters, you quickly get hooked on nice or bad characters…
I like the fact that all ages are combined, not only based on high school or the world of work, it's refreshing and it changes dramas where there is always a big love story, this is not where you will find one
What is also interesting, it is also the story of the characters, over the episodes, we understand why they became hunters or demons .
It's a comedy drama
All episodes are interesting to watch. No trouble on the horizon
Let's talk about the special effects… They are of good quality, I'm always a little afraid in this kind of science fiction drama that the demons are badly done or the special effects neglected, but it's not at all the case in this drama, So Mun cries very often but hey..hahaha
In short, I recommend!
Review 2 (Meriam) :
This drama is a killer I had favorite dramas this one took first place whether it was the casting (extremely well chosen!) or the story itself I have nothing to complain about. I picked it up on the way and keeping me up all night waiting for the other episodes was real torture.
At first seeing the name and some passage I thought it was not my style and that I would surely not watch, then a big thank you to my bored one evening that decided me!
even if you tell yourself that it's not your style or that the actors don't tell you anything try it at worst you will have wasted 1h or 2h of your time (which in a lifetime is not huge) at best that will become one of your favorite dramas!
Spoiler: The absence of romance made me mixed because on the one hand introducing romance would have been weird and I think that this one is sufficient but at the same time there was material to make a very beautiful couple!
I recommend it to everyone, these funny moving characters are endearing, you want to laugh, cry, get angry with them.
I'm waiting and hoping for a season 2