Arthdal Chronicles is a 2019 South Korean television series written by Kim Young-hyun and Park Sang-yeon and directed by Kim Won-seok, under the production banner of Studio Dragon and KPJ, starring Jang Dong-gun, Song Joong-ki, Kim Ji-won, and Kim Ok-vin. Regarded as the first Korean ancient fantasy drama, the story takes place during the Bronze Age and is loosely based on the story of Dangun, the founder of the first Korean Kingdom of Gojoseon. The series aired on tvN from June 1 to September 22, 2019, on Saturdays and Sundays at 21:00 (KST) for 18 episodes. It premiered internationally on Netflix.
In spite of the generally mixed to negative reception from critics and some viewers, the series was the sixth most preferred Korean drama among viewers in the United States market in 2019 as per Consumer Research Report by the Korea Creative Content Agency.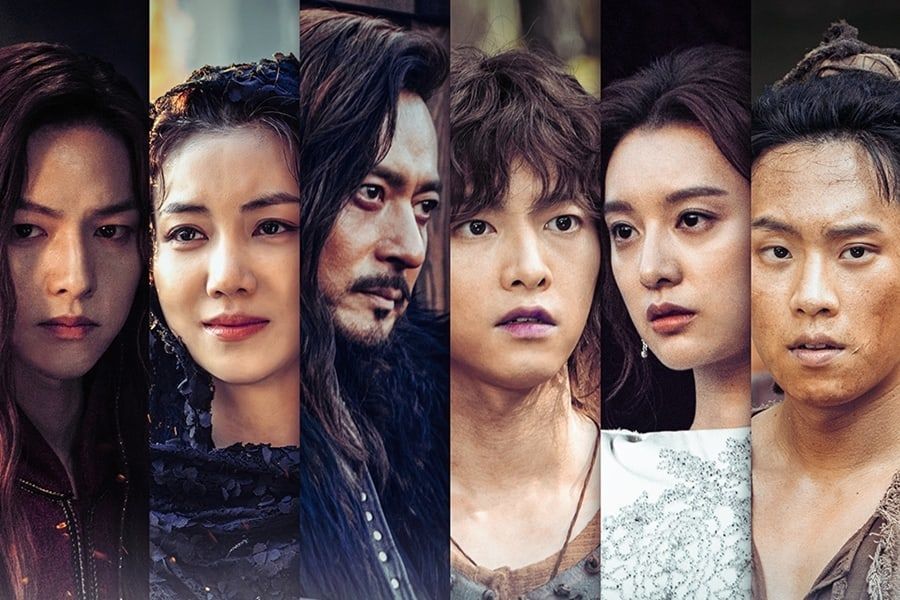 Review : By txc_vertigo (link)
The Good
(1) This drama is very ambitious and potentially groundbreaking. I haven't seen anything like it from a Korean drama ever. The setting of being a historical drama but not taking place during Joseon or Goryeo but rather in a mythical early civilization setting is very unique. This is also the most traditionally fantasy ala Lord of the Rings that a kdrama has ever gotten. The production is a huge gamble in that it's setting its feet on uncharted territory for Korean productions, which I appreciate.
(2) The cast is really star studded and they mostly do a great job with the acting throughout the series. Song Joong Ki, Kim Ji Won, Jang Dong Gun, and Kim Ok Bin are all decorated and very experienced and talented, which really shows. This drama is no easy task and finding much better actors to tackle it would have been hard. In many scenes, I was struck by how the main actors just commanded presences and jumped out of the screen.
(3) The set design I find to be very pleasing. Especially the large amount of outdoor sets that are really complex. The outdoor sets also mean that they can be more liberal with their practical effects. I jump out of joy when I see real fire, as it looks so dope compared to digital fire. The real fire also helps create spectacular lighting. I enjoy seeing the flicker of flames on the faces off the actors in tense scenes.
(4) The metaphor of the dujeumsaengs and Neanderthals of being treated like many native people by a majority group or settlers is quite smart. Much like the natives, they think that land shouldn't or can't be owned but rather it is something given to man by the gods for everyone to share. Enter the Saram, who proceed to ravage their villages, take away their land and freedom, all for the sake of their own profit. The sentiment isn't exactly new, as the whole exploitation of nature theme has been explored in other works of fiction like "Pocahontas" and even in other works of fantasy like Tolkien's "Lord of the Rings" and Cameron's "Avatar", but I enjoy it still.
(5) The drama being pre produced along with having really talented people spearheading it helps a lot with the quality of writing and production. The director for the show is hitmaker Kim Won Suk who has many quality shows under his belt such as "Misaeng", "Signal" and "My Mister". On the writing side, we find the team of writer Kim Young Hyun and writer Park Sang Yeon who wrote plenty of great historical dramas like "Queen Seon Duk", "Tree With Deep Roots" and "Six Flying Dragons" together. Both the producer's and the writers' track record speaks for themselves as they do just as great of a job in this show.
The Bad
(1) I need a goddamn lore book or wiki for this drama. There is so much information about characters, places, clans, gods and races that are thrown at you at once. I feel like I almost need to read up on all of it or rewatch the episodes multiple times. I understand that the first season needs to be exposition heavy, but sometimes it just becomes a bit to overbearing.
(2) Some characters interpretations are a bit too modern for my liking. For instance, Kim Ok Bin's character Tae Al Ha feels too out of place. Her mannerisms and the way she talks just sounds so modern considering the historical setting. Now, one could argue that this is fantasy so there is no frame of reference for how people of the time actually spoke. However, considering that the rest of the cast that plays the roles of nobles speak with the typical "saeguk-cadence", Tae Al Ha feels a bit out of place. Whether Tae Al Ha is acted this way because of Kim Ok Bin or the director or someone else on set, we may never know.
(3) There is a LOT of CGI in this drama and it doesn't always look that good. Some of the time it looks solid, when the lighting and shadows and textures and movement looks as it should look. Most of the time, the effects could have needed some more work. Mainly, some of the backgrounds that are entirely or partly computer generated look a little flat, (see Sea of Tears for instance). Also, the interactions between real actors and environments and CG objects and animals look a little jarring sometimes. The CGI usually looks fine at a distance, but when they show CGI animals or backgrounds up close to the camera or decided to go full CGI camera and 100% digital shot, like the opening shot at The Great Black Cliff, it takes you out of the immersion of the show.
(4) Despite the large budget some of the budget restraints are showing. The costumes, makeup and locations, have been criticized and I can see why. While they look fine enough when just casually watching the show, the flaws start to show once you analyze the series shot by shot. Like I said at the beginning, this show is a huge gamble and in some aspects it shows that the show is a first step toward creating full scale fantasy shows for the Korean market like this one.
Score: 8,5 / 10 – Despite some of its shortcomings, Arthdal Chronicles still is a really good show