The Devil Judge is a South Korean television series starring Ji Sung, Kim Min-jung, Park Jin-young and Park Gyu-young. It aired on tvN from July 3 to August 22, 2021, for 16 episodes. It was also available for streaming on Viu and iQIYI in selected territories, and on Netflix from December 24.
A 48-chapter webtoon adaptation was serialized on Comico from July 11 to August 18, 2021.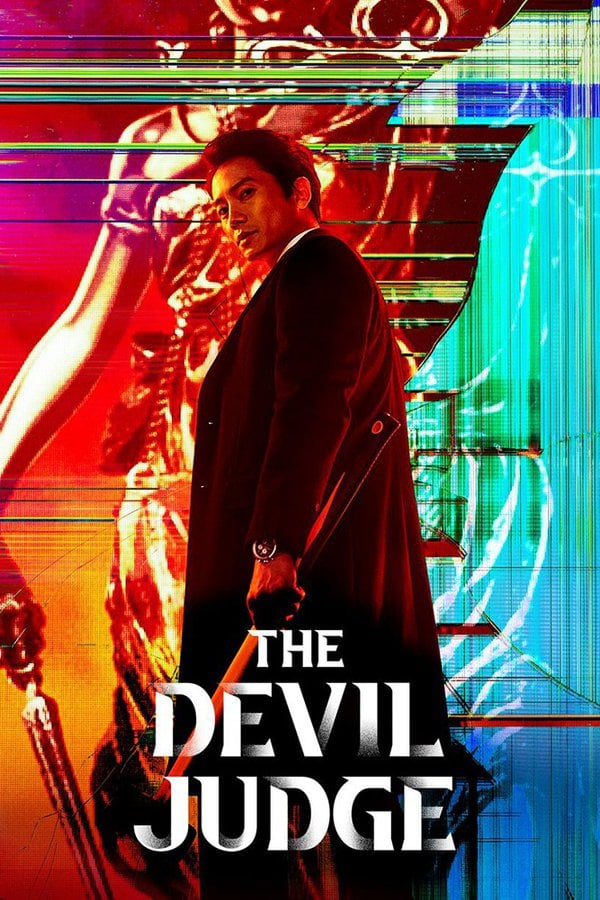 Synopsis
During a time of chaos, a judge turns the court into something like a reality show and punishes evil people mercilessly.
Kang Yo-Han (Ji Sung) is a judge. He has an aristocratic appearance and elegant taste. He punishes corrupt and greedy men with power. Kang Yo-Han a secret.
Jung Sun-A (Kim Min-Jung) is an executive director of the Social Responsibility Foundation. She is smart and beautiful. She is also Kang Yo-Han's enemy. Jung Sun-A is involved with important people from various social circles like politics and economics. She has the power to control the country by using her relationships.
Kim Ga-On (Jin Young) is a rookie judge. He has experienced difficult times since his parents died when he was a child, but he was able to become a judge after expending great effort.
Yoon Soo-Hyun (Park Gyu-Young) is a detective. She is Kim Ga-On's long time friend and she chases after Kang Yo-Han's secret.
Review by Apprehensive_Egg9676 (link)
I just finished this drama and what a ride! 10/10. Of course there were some ridiculous scenarios but I chalked it up to it being a dystopian world, the writer's fantasies and the low key makjang vibes. This was definitely way out of the realm of how any court works starting from having people vote and the whole Judge Judiness of it all on a higher scale. Knowing the writer is a judge this was definitely his fantasies on how he'd like to punish some of these criminals, the scene Yo Han wanted to take out the abuser's eye but ended up doing nothing makes me wonder if he thought about doing that in his court. This show had the nuance that Vincenzo lacked about meting out vigilante justice vs following the system to get justice. Every punishment Kang Yo Han made me uncomfortable and it was intended that way. I even skipped the electric chair scenes. There are interesting questions posed about the bloodthirsty nature of humans that Yo Han wants to encourage so that he can prove everyone is a monster like him but Ga On says "humans will hesitate".
Ji Sung! What an actor! His character is very meaty and he managed toed a thin line that to the end I wasn't sure of his motives and what really drove him. Revenge? Fun? Justice from hell? I love that there's room for interpretation. The scene where he sees his father hit him and stops him and says "don't hit me" was so powerful. The push and pull he has with Ga On who tries to save him from the edge of the cliff or when Yo Han tries to drag him off the cliff with him were my favourite parts. I hope he won awards for this. I love how he used all his tools, he's intense, cold, sexy, seductive, but funny, vulnerable and cute. Shame Netflix has pulled Defendant in my country. I think it's the only popular Ji Sung drama I haven't seen.
Jinyoung went toe to toe with him and he did well, though at times his character's idiocy and naivete was frustrating to no end. I mostly loved how he represented the audience showing how ridiculous everyone else is. Kim Min Jung played an excellent villain. Her choice to act bright and put a smile on her face when a beast is raging inside her, coupled with her innocent and open expressions, what a woman. But I do think the wrap up of her story left much to be desired. I could go on about the dictatorial populist president in whom I recognise a few world leaders including some in my country but I won't bother, he was extremely annoying and intentionally so, they usually sound like that. I'm sure someone else has done a better deep dive into him. Last thing is I liked Park Gyu Young's acting here way better than in Dali and the Cocky Prince. I enjoyed that show to but this one showed there's much potential that the right writer and director is yet to bring out of her.
There's much more I wanted to happen but the ride was great. I'm glad I binged watched this because I probably would have dropped it if I watched while it was airing, but I'm glad I stayed to the end.
Edit: I forgot to mention the production was so sleek and the musical direction was excellent. Great use of scores rather than overdoing it with a soundtrack. I liked the theme that came on whenever Suna or the Min of Justice lady came on the screen.