Mr. Sunshine is a 2018 South Korean television series written by Kim Eun-sook and directed by Lee Eung-bok [ko], starring Lee Byung-hun, Kim Tae-ri, Yoo Yeon-seok, Kim Min-jung and Byun Yo-han. The series is set in Hanseong (present-day Seoul) in the early 1900s, and focuses on activists fighting for Korea's independence. The series aired every Saturday and Sunday on tvN starting from July 7, 2018, and ended on September 30, 2018. It premiered internationally on Netflix.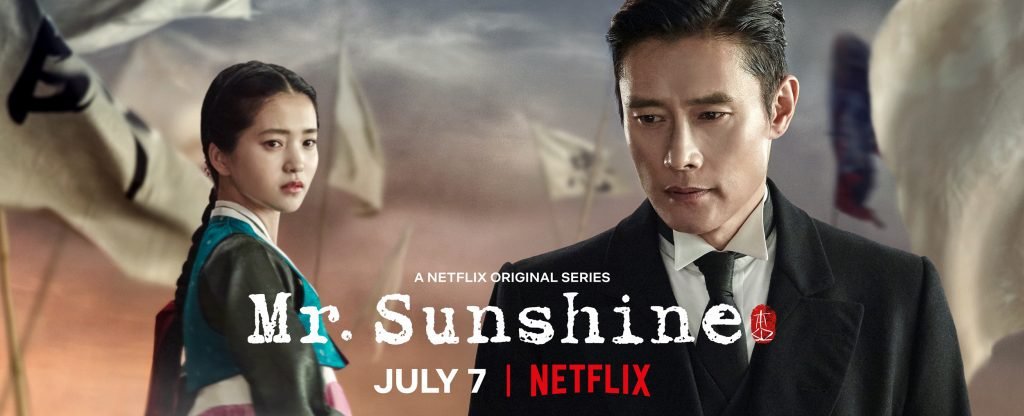 The series is the sixth highest-rated drama in Korean cable television history, with its final episode reached 18.129% and netting an average rating of 12.955%, which is the second highest average rating ever recorded for cable television. It received critical acclaim for its cinematography and storytelling but was also criticized for inaccurate portrayal of historical facts, with some even accusing it of being "pro-Japanese".
Mr. Sunshine centres around Eugene Choi (Lee Byung-hun), who was born into slavery in Joseon. After escaping to the United States after the 1871 Shinmiyangyo, he becomes a Marine Corps officer.
When he returns to Joseon for a mission, Eugene meets and falls in love with an aristocrat's granddaughter, Go Ae-shin (Kim Tae-ri), who is part of the Righteous Army. However, their love is challenged by their different classes and the presence of Kim Hui-seong (Byun Yo-han), a nobleman who has been Ae-shin's betrothed since childhood. Eugene also encounters Goo Dong-mae (Yoo Yeon-seok), a ruthless samurai, and Kudo Hina (Kim Min-jung), owner of the popular "Glory Hotel" where Eugene stays. At the same time, he discovers a plot by the Empire of Japan to colonize Korea and soon becomes embroiled in the fight for Joseon's sovereignty.
Historical background
Unlike most Sageuk dramas dealing with the Japanese occupation of Korea, Mr. Sunshine takes place before the Japanese annexation, in the late 19th and early 20th centuries. It has a heavy focus on the Righteous Army and depicts the lives of people who fought for Joseon's freedom. Real-life historical events such as Shinmiyangyo, the Spanish-American War, the assassination of Empress Myeongseong, the Russo-Japanese War, Gojong's forced abdication, and the Battle of Namdaemun are portrayed or mentioned.
Historical figures such as Emperor Gojong, Ito Hirobumi, Hayashi Gonsuke, Yoshimichi Hasegawa, Horace Newton Allen and the Five Eulsa Traitors appear as recurring characters, with others, such as Theodore Roosevelt, Ahn Chang-ho, Eum Sun-heon [ko],Park Seung-hwan [ko],and Frederick Arthur MacKenzie, also making cameo appearances.
Main historical events described in Mr. Sunshine
The Battle of Ganghwa (1871): It was a major battle that occurred on June 10, 1871 between the United States and the Joseon Dynasty. On June 1, the American ships entered the Ganghwa Straits to establish trade and ensure the safety of the shipwrecked sailors of the SS Sherman, which was destroyed by the army of Joseon. However, they came under fire. The United States gave Joseon ten days to apologize, but they refused. As a result, on June 10, the U.S ships USS Palos and USS Monocacy fired their weapons against the Choji Garrison on Ganghwa Island and wiped out the Joseon army. In Mr. Sunshine, the battle scenes are thoroughly described as its character Jang Seung-goo fought in this battle as a teen and lost his father. This battle was a pivotal moment for Seung-goo as it caused him to believe that King Gojong abandoned his own people and let them die.
The Japan-Korean Treaty of 1905: This treaty was made between the Empire of Japan and the Korean Empire on November 17, 1905. Through it, Japan effectively overtook the diplomatic control of Korea. While Mr. Sunshine does not demonstrate this treaty and its effects in detail, it contains a scene in which Kim Hui-seong takes pictures of the pro-Japanese Korean officials. Through these pictures, Hui-seong intends to let his descendants know the misconduct of the corrupted government officials.
The Battle of Namdaemun: This battle was fought between the Korean and Japanese armies on August 1, 1907. It took place at the Namdaemun Gate, in Hanseong and was a revolt of the Korean army against the order of disbandment that was issued through the Japan-Korea Treaty of 1907.
In Mr. Sunshine, the battle scenes are depicted in detail. The character Jang Seung-goo sacrifices himself to protect his soldiers. This battle is a turning point for Seung-goo as he sacrifices himself for a country and an emperor he dislikes.
Review: by Flower-1496 (link)
I just finished watching Mr. Sunshine. I took my own sweet time watching it, as I didn't want this piece of art to end. Now that it has ended and I've stopped being teary, I want to express how it is one of the best shows ever made.
Plot
The plot surrounds the heartbreaking reality of the struggle for freedom against a foreign nation. I've always deeply rooted for such histories, as my country also faced similar circumstances.
At times, one can forget that they're living in such difficult times, like when the three guys meet in the bar. The show doesn't forget to highlight that had they been living in happier times, all the love stories and bromances would have bloomed. I still get tears in my eyes over what could've been. The visuals of Ae-Shin & Eugene in USA are too sad & painful.
Their loyalty and patriotism towards their Joseon and towards each other stands out amazingly. I was heartbroken and yet, proud of the characters for fighting for their nation. The plot is very tight and gripping, and you can feel the intensity almost every moment.
Characters and Acting
Firstly, hats off to the director for such an elaborate cast and unique character of each one of them.
Let me begin by talking about my five favourite characters, because honestly I can't choose one or two.
Eugene Choi is a very endearing character and he manages to bring a smile on the face of person in front of him (both in the show & audience) in the most painful moments. I've never seen a purer form of love, than he has for Ae Shin. He had every reason to leave Joseon, yet he stays there for her and dies for her sobs.
Ae-Shin!
She's not your usual FL, neither is she your regular "strong FL". She is a real person, who represents Joseon, no less. She tries to learn, shows mercy on weaker people, shoots, and fights for her love. And yet, she knows she's biased. She can never be as equal as the ones below her and still, she becomes as equal to them as she can. She sacrifices her love for her country, last scene in the train my god. She is a revolution in herself, especially considering those times.
Kim Hui Seong
This guy, who initially seems good for nothing, turns out to be gold. He tells you what it means to love, selflessly. He respects Ae-Shin for who she is, and he respects his choices also. He repents the wrongs of his family and takes on such an important responsiblity. I've never seen a more good natured and genuine person.
Hina Kudo
is a badass with a vulnerable heart. I never knew about Kim Min Jung, but this woman acts so well! Her little winks, pouts and smirks in those pretty dresses. I always end up teary at the fact that she loved Dong Mae and yet she told him about what Hotaru did, knowing very well she could lose him if he went to Japan. And she did die before him.
Gu Dong Mae,
This Hospital Playlist guy, is one of the most complex, layered and engaging character in the entire show. I always waited for him to appear on the screen. His regretfulness over what he said to Ae-Shin and his loyalty towards her are mind blowing. I was so happy when Ae Shin recognised his efforts for her in Japan and asked him to return safely. In that moment, we all were Gu Dong Mae haha. The way he tries to hide his emotions, especially when the 3 guys were together, shows how tender his heart is. (I was a big lover of the bromance.)
Also, since I have already written so much, still I would like to add that characters like Lee Wan Ik, Il Shik, Ms Haman, Mr Haeng Rang and others acted perfectly. I'm in awe of all the actors, thank you for your hardwork!
Cinematography
Every scene is beautiful, honestly. I was mesmerised by the quality of imagery from the first episode itself. Every shot is well thought out and not a single scene looks "extra".
That's it, folks! I wish everyone in this world to see this drama and appreciate it for the beauty it is! An easy 100/10 for me. I love dramas that make me cry for the right reasons.