Son Hyun Joo, Jang Seung Jo, and More Are Back and Better in "The Good Detective" Season 2 Poster.
More than a year after the announcement of season 2 , "  The Good Detective  " is finally preparing for its return!
Back in April, JTBC confirmed that "  The Good Detective  " would return with a second season and lead actors Son Hyun Joo and Jang Seung Jo would reprise their roles.
The story in brief…
Starring Son Hyun Joo , Jang Seung Jo , and Lee Elijah , the first season of "  The Good Detective  " chronicled the realistic lives of police detectives in their search for the truth and their struggles with those who try to cover it up. The drama concluded in August 2020 with an audience of 7.469%, close to the drama's personal best of 7.609%.
On June 28, JTBC kicked off the countdown to "The Good Detective 2" with an exciting poster and commented, "Son Hyun Joo, Jang Seung Jo, and the West Incheon Police Violent Crime Team 2 will resume. their investigation.
In the next season, the good detectives of the Violent Crimes second team will use only the truth to oppose the ambitious villains who go beyond the limits.
The poster
The new poster features Son Hyun Joo as Kang Do Chang and Jang Seung Jo as Oh Ji Hyuk. They are also joined by Cha Rae Hyung as Kwon Jae Hong, Jung Soon Won as Ji Man Goo, Kim Ji Hoon as Byun Ji Woong, and Kim Myung Joon as Shim Dong Wook. The caption reads: "They came back even stronger. »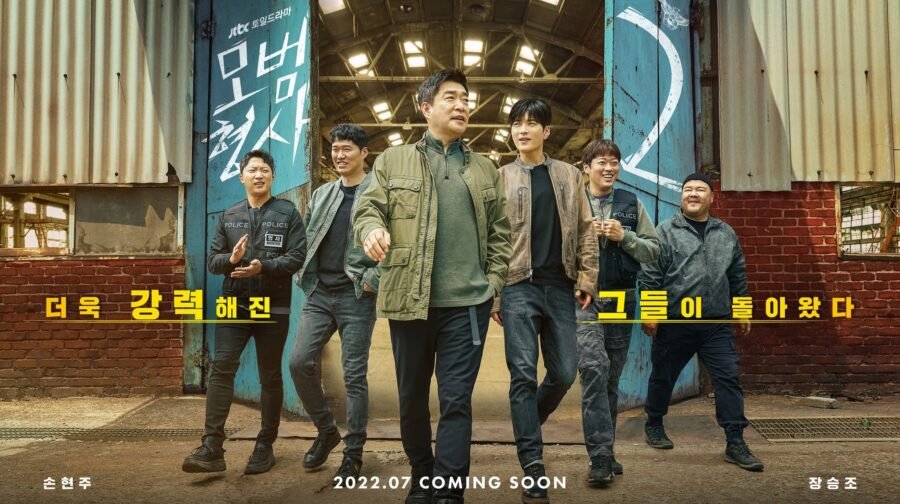 To fans who have waited so long for a second season, the production team of "The Good Detective 2" said, "The storytelling of Season 1, which featured the world of real detectives running ever faster, will be even stronger in Season 2. That's how Violent Crimes Team 2 is intent on scouring the world of evil to catch bad guys until the soles of their feet are sweating. Additionally, the teamwork between Kang Do Chang, Oh Ji Hyung, and the Violent Crimes Team 2 will be even stronger. Please also rejoice in the amazing chemistry between good detectives. »
Season 2 of "The Good Detective" was filmed last May and is currently in post-production. The drama will air next July.